It has been a huge blessing that I was called into the YW a little after I started this blog. Since I was planning, thinking and creating material for my lesson anyway, this blog became the perfect outlet to share what I was already doing. It also gave me the chance to share the dearest part of my heart and life-my testimony of the reality of Jesus Christ. Teaching YW provided topics and resources and became the perfect ground to talk about, share and fine tune for myself the beliefs I had.
Having said that, I hope these lessons, although initially intended to teach teenaged girls in a church group, can be read and applied to anyone's life. Mothers, girls, women, boys and men. These are principles of a happy, fulfilling life.
With that said, the things I share are true feelings, beliefs and stories that I share with my YW but I share them to also hopefully help anyone else along too.
The lesson was I teaching on was Why do we have adversity? Which was timely for me.
The last couple weeks I've been pretty sick. I had a fever higher than I can ever remember having. It was 103-104 degrees for 4 days. I was weak and exhausted. I somehow still had to take care of my 3 sick kids on top of that. I knew complaining and getting frustrated at my situation would only make things worse so I did what I could to redirect my focus to what I COULD do and think (not to say I didn't have my weak moments of utter defeat!). I thought of the YW lesson I was preparing to teach and thought, "Oh perfect. There is no better way to learn about why we have adversity than to go through this." My thinking shifted to "What can I learn from this? and "How can this experience help me grow?"
That mental shift changed everything.
Here some of the things I learned.
Tribulations brings a softening and humbling of spirit and heart.
When I was so physically weak from illness, I was reminded of how I feel when I fast. The physical weakness and lack of energy can be turned to a precious moments of humility and direct one to a different power beyond physical strength-spiritual strength.
I have learned every experience, evening if unpleasant at the moment, can be used to create more room in ones soul to allow greater strength and experience deeper peace and joy later.
Feeling spiritually disconnected and alone
The most difficult moments for me are not the physically weak ones but the moments when I feel alone, left in the dark and disconnect from the source of peace and joy. The most trying challenge comes when I can hardly feel that spiritual strength and power within myself.
Being sick for that length of time combined with the demands of parenthood left me unbalanced in all sorts of ways. Despite my efforts, I wasn't getting enough rest for what my body needed to recover. I didn't leave for the gym in the mornings because I felt too sick. Which meant I didn't get the exercise I usually get which helps keep me emotionally, mentally and physically afloat. This threw me for a mental/spiritual/emotional spin off. It left me feeling really down casted, unmotivated, depressed and easily discouraged by everything. It was that familiar dark place where it feel like something inside me has died. Life feels dismal and meaningless. Everything I was once excited about–my passions, my ideas, my insights– all seem to disappear. Thinking about things like that at the time of gloom seemed like foolish nonsense.
Having gone through this several times before (see "dealing with mommy blues") I have learned that this is actually part of the test. It is the most difficult testing point for me. It is where I must make good choices when I feel no motivation for them. It is a slippery time when I feel my very faith and sentiment toward God seems dim and waning. It is where the darkness of doubt, fear and insecurities creep in again to confuse everything inside me.
I have learned that however seemingly illogical, I must still continue to seek the God I can no longer feel and the light that seems like is no longer there to guide me. I must make good choices for myself and respect others even when I don't feel like it. It is the only way to get out the dark.
It is a moment where my FAITH becomes a principle of  deliberate DECISION and ACTION  instead of a genuine sentiment or feeling.
I thought of Joseph Smith and how he must have also felt abandoned when he cried out, "Oh God, where art thou?" in Carthrage Jail. I know my experience is not nearly as dramatic and devastating as that of the prophet but I believe that no matter our outer challenges it is the inner workings and battles of the soul in each of us that are the most challenging and ultimately where our character is built.
Heavenly Father answers Joseph's plea with, "My son, peace be unto thy soul; thine adversity and thine afflictions shall be but a small moment;" (D&C 121:7)
I thought, "This too shall pass and I will enjoy greater happiness once I am able to overcome this yucky time!"
What is happening TO you is happening FOR you.
I used to stay in the dumps for a long time before I was able to climb out. I used to panic and condemn myself for what I was experiencing and it would start a vicious cycle that made it difficult to climb out of. Now I know to not freakout. I am getting quicker and better because of what I have learned. Doom and gloom are lies from the adversary we must learn to not believe. It is not because God has abandoned us. He is ALWAYS there, even in and especially during the times we can't feel Him. He lets us experience dark moments and soul shaking attacks from the adversary because He knows we grow tremendously every time we can conquer those times with His strength.  It is pressing forward in faith and continuing to make positive choices even when we don't feel like it. Overcoming the dark cavities within ourselves create greater room for the Spirit to dwell with in us.  It is preparatory for us to enjoy greater joy and peace and connection to God later. He allows these sorts of things FOR OUR OWN GROWTH and GOODNESS. Trust.
I feel like this fits in so well with Linda S. Reeves temple analogy:
"Almost three years ago a devastating fire gutted the interior of the beloved, historic tabernacle in Provo, Utah. Its loss was deemed a great tragedy by both the community and Church members. Many wondered, "Why did the Lord let this happen? Surely He could have prevented the fire or stopped its destruction."
Ten months later, during the October 2011 general conference, there was an audible gasp when President Thomas S. Monson announced that the nearly destroyed tabernacle was to become a holy temple—a house of the Lord! Suddenly we could see what the Lord had always known! He didn't cause the fire, but He allowed the fire to strip away the interior. He saw the tabernacle as a magnificent temple—a permanent home for making sacred, eternal covenants.4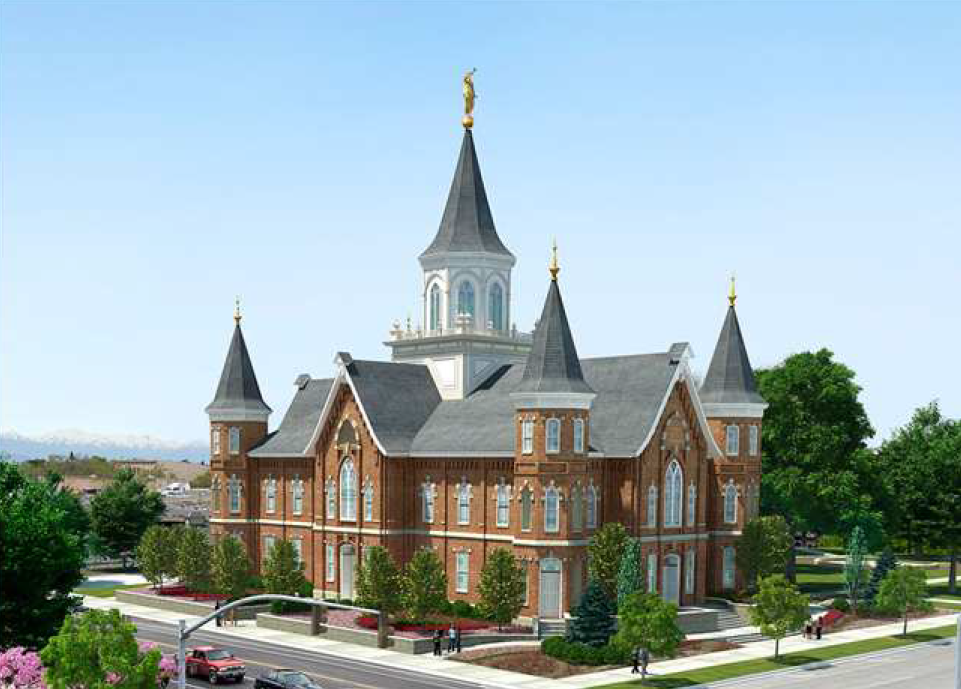 My dear sisters, the Lord allows us to be tried and tested, sometimes to our maximum capacity. We have seen the lives of loved ones—and maybe our own—figuratively burned to the ground and have wondered why a loving and caring Heavenly Father would allow such things to happen. But He does not leave us in the ashes; He stands with open arms, eagerly inviting us to come to Him. He is building our lives into magnificent temples where His Spirit can dwell eternally.
If you would like to use this analogy to teach your family, or church group, here is the download of the pictures in a PDF. It can be printed on paper (or cardstock) to display as you tell the story.
Download "Provo Tabernacle Images" trials-provo-tabernacle-images.pdf – Downloaded 3279 times – 6 MB
I've had this comes to my mind often:
I think it is important to write down our thoughts and impressions we receive in moment of clarity and wisdom. Quotes and scriptures that touch us and help us through are essential to write down so we have positive references when life isn't looking or feeling good. It's all about REMEMBERING. I created this handout for anyone to use to help them remember the good stuff that will pull us through!
Download "Spiritual Strength thru adversity PDF" spiritual-strength-adversity.pdf – Downloaded 997 times – 392 KB
For my lesson I showed the video, "Mountains to climb" and had girls fill out above handout as they heard things that impressed them. Through out lesson they wrotte down thoughts that could help them.
YOU CAN DO THIS MY FRIEND!
Other helpful links:
Object lesson video and handout about finding solutions to challenages
6 ways to be happy during tough times
RS presentation video about mentally/emotional/spiritual wellbeing 
Comments
comments